Victoria Justice's Belly



Years Shown:

2007-Present

Belly button type:

Deep Innie

Ticklish?

Most likely
Victoria Justice is a popular celebrity who enjoys the exposure of her midriff, and is commonly seen wearing tops that show off her belly and belly button. There have been various different occasion of when she has shown it, such as on every Dan Schneider produced Nickelodeon TV show that she has starred in, in her most previously produced music video for her first single "Gold", during multiple concert performances (about half of them total), and several times in public or on her social media accounts. She also happens to be one of the celebrities to have the most pictures posted online of which she is wearing midriff exposing tops, consisting of over 40 individual different outfits with multiple  pictures and videos posted throughout the web. There is even a channel on YouTube completely dedicated to when she has shown her midriff, with over 20 videos and 100,000 cumulative views! 
Televised/Movies
Edit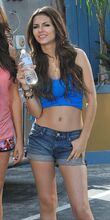 Her midriff was first seen on TV on Zoey 101 where she was seen in a few episodes wearing a bikini. In one episode, Dustin points out that there is bug on her belly, after which she freaks out and shows the camera her bikini body.
She then went on to show it on the episode of iCarly which she guest starred as Shelby Marx (iFight Shelby Marx). Her character on the show has her midriff exposed almost the entire episode, with the exception of two brief scenes. One particular outfit had her wearing a crop top and leather jacket that was short enough to show her belly button.
On Victorious, she managed to show off her midriff much more. 
On the pilot episode, when she is pulled and dragged to the dressing room, her midriff is seen. On the episode Survival of the Hottest, she showed it throughout the episode wearing a blue crop top and short shorts.
It wasn't until the third season until she showed her midriff intentionally again. This was in the Breakfast Brunch episode in which her friend Robbie grabs her and blows raspberries into her it. It was shown earler in two webisodes on the Slap website. The first time was when she was made into a "human hamburger" in which her stomach served as a patty and the next was when she happily jumped in the air and her shirt flew up above her navel after she scared Trina for the seventh time in a row.
Her midriff was seen in an unused picture in a promo shoot for her and Big Time Rush's concert. It is probable that Nickelodeon cut this picture out due to the large amount of exposed midriff seen directly in the photo's center.
Thus far in the shooting of Naomi and Ely's No Kiss List, Victoria's wardrobe consists of mostly crop tops that go above the navel.
Victoria has worn many of crop tops when in , and even when going large events events. The proof comes from various pictures posted online by herself (on social sites such as Instagram, Facebook, Twitter, and Tumblr) and by the paparazzi. There are also multiple photos that her fans have posted online that they have taken with her at meet and greets or when she is recognized in public.
In more than half of the performances of her Summer Break Concert Tour with Big Time Rush, she wore crop 
tops that showed a great deal of midriff up past her navel.
Her midriff has notably been seen in three different music videos. She showed a it a few times in the video for Beggin on Your Knees while dancing. She later showed it intentionally in Make it in America, wearing a short blue top and in a pink knotted shirt. Her most recent video she has shown it in is Gold in which she wore a short crop top towards the end of the video.
In her Maroon V medley with Max Schneider, she is seen wearing a tight pink tank top that shows off her lower belly skin. Although her belly button never completely shows, it appears to be an intentional tease on her part.
Ticklishness
Edit
There is a suspicion among some that Victoria Justice is quite ticklish. The two most notable areas are her feet and her belly. While she has publicly stated that her feet are quite ticklish on Twitter, there is less we know about her belly. Since she is so fond of showing it off, one can only imagine that it is sensitive. Furthermore, there were a few episodes of Victorious where Tori was either tickled by Jade briefly on her sides, or had her navel blown on by Robby. This seems to confirm that she is quite sensitive in these spots. In the episode "Crazy Ponnie," there is an instance where Ponnie puts her finger in Tori's belly button. Tori seems very uncomfortable with this, as if she is worried that Ponnie would start wiggling her finger in her navel. Overall, while we do not know for certain if Victoria's belly button is ticklish, there seems to be a lot of evidence to suggest it is.
Photoshoots

Edit
In a few cases so far, Victoria has shown her belly in some of her photoshoots. Her most notable one would be her photoshoot for Annex Magazine. She is actually wearing two different outfits that show above her navel. In an earlier shoot which did not appear in a magazine, her belly is being shown in a knotted buttoned up top. Despite the fact that a noticeable amount of her midriff is seen, her navel was not exactly visible due to the large knot used to keep the shirt up.
Community content is available under
CC-BY-SA
unless otherwise noted.