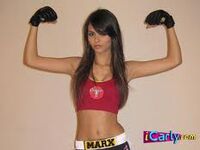 Shelby Christina Cymponique Marx is a teenage female fighter who Victoria Justice portrays in a guest appearance in the iCarly episode, iFight Shelby Marx.
In The Episode
Edit
Shelby is portrayed as an attractive young teenager who has a great talent as a fighter. She is a sweet girl who is kind to her grandmother and is willing to defend her family.
When Carly Shay (Miranda Cosgrove) makes a joke on her webshow, iCarly, with best friend Samantha "Sam" Puckett (Jennette McCurdy) that she could kick Shelby's butt, Shelby challenges Carly to fight. Shelby guarantees that she will not hurt Carly, but when they attend a press conference together, and Carly accidentally falls on Shelby's grandmother, Shelby is annoyed. After Carly states that it was not on purpose, they make up. Carly's enemy, Nevel, however, is determined to change this and makes a video that looks like Sam told Carly to "push her grandmother over". Before Carly can tell her she never did, the fight takes place. Shelby deliberately punches Carly in the ring, and it escalates into a full-on fight. After Carly finally reveals it was accidental and that Nevel made the video, they seek revenge, and it is implied that Shelby, Carly, and Sam beat him up.
During the iCarly.com web bits such as Babysitting with Victoria Justice, they always say, "Hey, you look a lot like Shelby Marx!". And she replied, "Yeah I get that a lot."
Click here to see the photo gallery.
Community content is available under
CC-BY-SA
unless otherwise noted.