Serene Justin
Gender:
Female
Age:
60
Born:
February 26, 1959
Occupation:
Actress, Singer, Model
Years Active:
1977- Present
Serene Justice-Reed is Victoria Justice's mother, and Zack Justice's ex-wife, Victoria's father. She was born on February 27, 1959. Victoria says to Famous that her mom is an incredible mentor and she wouldn't be an actress if it wasn't for her.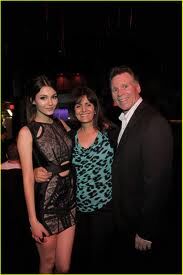 Relationship With Victoria
[
]
Her relationship with Victoria is great. They're really close.
they are lovely
Serene: "It's been only recently that Victoria started thinking I was a cool mom. For a while she viewed us as enemies for enforcing a curfew or saying no."
Victoria: "I had adolescent syndrome. I thought parents didn't understand anything, and that I could talk only to my friends. But that's changed. Now my mom is the one person I trust."
Serene: "I try to make everything in life a teachable example. If a celebrity does something wrong and gets in trouble, we talk about why it was bad. If Victoria meets a new friend, I ask what she likes about her, then suggest she strive to achieve those qualities in herself."Fft
Victoria: "I wish I could wake up as happy and as perky as she is, instead of feeling grumpy for the first hour I'm out of bed. It's something I hope eventually rubs off on me. But even more important, my mom is kind, compassionate, accepting, and attentive—the type of person you always want to have around."
Victoria talks about her mother in an interview with TG Philippines:
My mom always says, "Keep your friends close- but your enemies closer".
Victoria talks about her mom in a magazine:
My mom is really nice and super postive. She always keeps me in a good mood and always keeps me going. My mom is pretty awesome.
[[Category:Mothers]