Jurassic World: Dominion Dominates Fandom Wikis - The Loop
Play Sound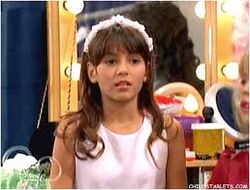 Rebecca is the character portrayed by Victoria Justice in the Disney Channel series, The Suite Life of Zack and Cody. She only appeared in the first season's 2nd episode.
Story
Rebecca is first seen in the hotel lobby. It seems that when her eyes meet with Cody's, she likes him, but still refuses to let him help her with her bag, saying she "can't talk to strangers."
She really likes Tyreesha (Cody), and whenever Cody compliments her says she (he) is "so sweet." She has also called him funny and tried to hug him, but could not because Zack did instead, excited with the prospect of earning money for bikes.
She only competes in beauty pageants because she needs money for vet school, as she wants to open an animal hospital for underprivileged pets. Her mother is never seen, but in the first part of the episode Rebecca has to go hold her earring because her mother got in a cat fight.
Rebecca wins the beauty pageant because Cody drops out and is disqualified anyways because the judges discover Tyreesha (Zack in the talent competition, as he had dropped out) is a boy. In the last scene of the episode, she warms up to him and says goodbye, kissing him. After she leaves Cody declares that that was "way better then a bike!"