"Make It in America" is a song performed by American actress and singer Victoria Justice, co-written with its producer Martin Johnson, for the Nickelodeon television series Victorious. It was released on May 15, 2012, as a single from the series' first extended play, Victorious 2.0: More Music from the Hit TV Show, released on June 5, where it was placed as the first track.[1]
Background and release
On May 1, 2012, Seventeen revealed the lyrics for "Make It in America", a new song from Victorious which would be performed in the episode "Tori Goes Platinum" on May 19.[2] On May 14, Teen.com revelead the cover artwork of the single and Victoria Justice announced on her website it would be released the next day.[3] It's the only song written by Justice from Victorious 2.0: More Music from the Hit TV Show. The lyric video was uploaded on the singer's YouTube channel on May 17. In Australia, it was sent to radio on November 1 and released digitally on November 9.[4]
ClevverTV an interview on "Make It in America" with Justice on YouTube on May 18. She revealed the song's inspiration came when she overheard her mother, Serene Justice, talk on the phone with her music manager about someone out of the country who "make it in America", prompting her to write a song with that title. She wrote and recorded it with Martin Johnson in his temporary studio, only six to eight hours. Johnson later e-mailed her with this song while she was doing press for Victorious in Europe. After she downloaded and played it in the car, she fell in love with it, as did everyone, including her mother.
It appears the Nickelodeon Superstars playlist (along with "Gold", "Take a Hint", "Leave It All to Shine", "Freak the Freak Out", "Make It Shine", and "Song 2 You") and on TeenNick's the Best of Victorious playlist (along with other 12 songs by Justice) on Spotify.[5][6]
In the series
"Make It in America" was performed by Tori Vega (portrayed by Victoria Justice) in the episode "Tori Goes Platinum" (the same episode "Freak the Freak Out" and "Cheer Me Up"), that premiered on May 19, 2012. Tori wins the contest to perform at the Platinum Music Awards, but is unhappy with how the show's producer Mason Thornesmith (portrayed by Charles Shaughnessy) and his team want to create her image. After taking advice to be herself from her close friend Beck Oliver (portrayed by Avan Jogia), Mason fires her and replaces her with Jade West (portrayed by Elizabeth Gillies), who is Tori's enemy and Beck's ex-girlfriend. While rehearsing the awards ceremony, Jade accidentaly sees a video chat where Beck tries to kiss Tori, but she refueses because she treats Jade as her friend. Just before the ceremony, Tori comes to her dressing room to talk to her, where Jade says it was going to be Tori's big chance, suggesting Tori should perform here. When the show begins, Tori appears on the stage, much to Mason's shock and frustration, but he later enjoys her performance, which ends in big applause.
Composition and reception
Heather Phares from AllMusic, reviewing the extended play, wrote "Victoria Justice's commanding vocals are the main attraction here, particularly on the single 'Make It in America' and 'Shut Up and Dance'."[7] Megan Gaertner of Her Campus placed the song on the fifth place of the best songs from the series, stating "This song is really sweet. It describes the dream of wanting to be successful in the industry, and it's just really nice and heartwarming."[8]
Chart performance
"Make It in America" failed to appear on the Billboard Hot 100, the main chart for songs in the United States. However, it debuted at the top of the Kid Digital Song Sales chart, where it spent 25 weeks in total. It became Victoria Justice's sixth (after "Beggin' on Your Knees", "Best Friend's Brother", "I Want You Back", "You're the Reason", and "Take a Hint") and last song to reach number one there, before the chart's discontinuation on January 2020.
Weekly chart positions
Chart
Week of
Week number
Peak position
Kid Digital Song Sales
June 2, 2012[9]
1
1
June 9, 2012[10]
2
June 16, 2012[10]
3
6
June 23, 2012[9]
4
N/A
June 30, 2012[9]
5
July 7, 2012[9]
6
July 14, 2012[9]
7
July 21, 2012[11]
8
9
July 28, 2012[11]
9
10
August 4, 2012[9]
10
N/A
August 11, 2012[9]
11
August 18, 2012[9]
12
August 25, 2012[9]
13
September 1, 2012[9]
14
September 8, 2012[9]
15
September 15, 2012[9]
16
September 22, 2012[9]
17
October 6, 2012[9]
18
October 13, 2012[9]
19
October 20, 2012[9]
20
October 27, 2012[9]
21
November 3, 2012[9]
22
November 10, 2012[9]
23
January 12, 2013[9]
24
February 16, 2013[9]
25
Music video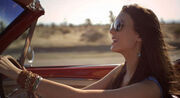 The music video premiered on May 18, 2012. It starts with Victoria Justice driving her car. She's later seen leaving the gas station where she gets a message from Elizabeth Gillies, Ariana Grande, and Daniella Monet writing they need a performance for a party. Justice gets in the vehicle and drives on until she meets Matt Bennett, Avan Jogia, and Leon Thomas III with whom she travels on. On their way to the party, they pass billboards featuring a Hollywood Walk of Fame star with Justice's name on it and a Hollywood Sign. They come to a party where she performs. Additional scenes feature her singing in the desert.
The behind the scenes video was uploaded on Justice's YouTube account on June 4. It has become private since then.[12]
Live performances
Victoria Justice first performed the song in an episode of The Ellen DeGeneres Show, which aired on the same day the song was released.[3] The song was a part of the setlist of Justice's 2013 second concert tour, Summer Break Tour.
Credits and personnel
Eric Bisgyer – Assistant engineer
Martin Johnson – Acoustic guitar, background vocal, bass, composer, electric guitar, lyricist, percussion, producer, programmer
Victoria Justice – Composer, lyricist, vocal
John Keefe – Drums
Stephen Marcussen – Mastering engineer
Kyle Moorman – Engineer, programmer
Miles Walker – Mixing engineer
Lyrics
[Verse 1]
Got a one way ticket down a 2 way street
Got the wind in my hair and there's dust on my feet
I'm just trying to make it in America
Only thing to my name is an old t-shirt
Faded 1985 from a Stones' concert
And I'm dying to make it in America
And I'm singing the words to my favorite song
With the rag top down and my glasses on
And I'm driving straight through America

[Chorus]
I wanna taste the sun
Cause baby I'm born to run
I got a feelin' that I'm not the only one
I, I wanna show some skin
Yeah baby I need the ocean
You can't stop me now I've got my heart in motion
I want to make it in America
Make it in America

[Verse 2]
I can see my star sunset and vine
Gonna carve my name in the Hollywood sign
Yeah I gotta, gotta make it in America
See me wearin' a smile even if I'm broke
I'll be singing the words from a song I wrote
And I called it "Make It in America"

[Chorus]
I wanna taste the sun
Cause baby I'm born to run
I got a feelin' that I'm not the only one
I, I wanna show some skin
Baby I need the ocean
You can't stop me now I've got my heart in motion
I wanna make it in America (yeah)
Make it in America

[Bridge]
I can feel the sweat dripping down my face
I can hear my heart as it starts to race
Sometimes this world's such a lonely place
If I just push on I know that

[Chorus]
I wanna taste the sun
Cause baby I'm born to run
I got a feelin' that I'm not the only one
I (I), I wanna show some skin (just some skin)
Baby I need the ocean
You can't stop me now I've got my heart in motion
I wanna make it in America (make it in America)
Make it in America
Gallery
References