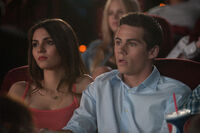 First Time follows two students over the first weekend of a blossoming relationship. Victoria Justice played the girl of the protagonist's dreams, though she considers him strictly a friend.
A limited release of the movie took place on October 19, 2012.
The film centers on the first weekend of a fledgling romance between two high school teens, Dave Hodgman (Dylan O'Brien) and Aubrey Miller (Britt Robertson), and the presence of Dave's dream girl, Jane Harmon (Victoria Justice).
The release date was March 12, 2013.
Dylan O'Brien as Dave Hodgman
Britt Robertson as Aubrey Miller
Craig Roberts as Arthur Goldberg
Maggie Elizabeth Jones as Stella Hodgman
LaMarcus Tinker as Big Corporation
Christine Taylor as Aubrey's Mom
Joshua Malina as Aubrey's Dad
James Frecheville as Ronny
Halston Sage as Brianna
Molly C. Quinn as Erica #1
Christine Quynh Nguyen as Erica #2
Matthew Fahey as Brendan Meltzer
Community content is available under
CC-BY-SA
unless otherwise noted.